Blood Torva Kit
Old School RuneScape
---
The Ancient Blood Torva Ornament Kit – Old School RuneScape
With the release of the long awaited quest, Desert Treasure 2, comes the hardest challenge in Runescape history! Defeating the 4 Awakened bosses: Duke Sucellus, The Leviathan, The Whisperer, Vardorvis gets you the Ancient Blood Torva ornament kit which turns tour current set of Torva armor into a darker, more brooding look! Get your Blood Torva kit with ease by having us do the heavy lifting for you! Whether it is one boss or all four, we have you covered. Don't want us on your account? We offer remote services with this product as well!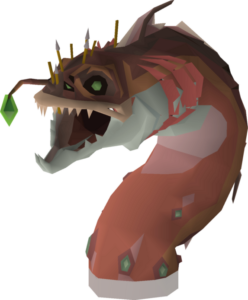 Slay the Awakened Leviathan!
---
Blood Torva Requirements and Order Options
Requirements:
You must have completed Desert Treasure 2
You must supply your own Awakener's Orbs
You must have a good melee weapon (Rapier, Osmuten's Fang, Scythe of Vitur)
You must have a good range weapon (Twisted Bow, Bow of Faerdhinen, Toxic Blowpipe)
You must have a good mage weapon (Sanguinesti Staff, Tumeken's Shadow)
You must have the necessary potions, arrows, runes and other supplies to complete the run.
Order Options:
This Blood Torva Kit service is done in a standard fashion. Our Sherpas will login to your account and complete the Blood Torva Kit for you. If you are interested in a remote service (we login to your account on your PC/IP) using a service like TeamViewer or you don't quite meet the requirements,  please enter live chat for a custom quote!
---
Frequently Asked Questions:
How long will this Blood Torva Kit OSRS service take to complete?
We aim to have any service ordered completed with 24 hours, however this does depend on the amount of raids purchased. Large orders may be completed of a period of several days.
If I order a service how do I know you won't mess with my account?
This is a very common and fair question that we get asked often.
We are a legitimate website with thousands of completed orders over many years and reviews from many real, satisfied customers just like you, but don't take my word for it. Here are reviews from some of our most recent customers:
https://sherpasboosting.com/reviews/.
At the end of the day, we know that you providing your account to us to complete something for you takes a lot of trust and we take that very seriously, with a 100% guarantee that any damage to your account as a result of your work with us will be fixed entirely out of our pocket. For further peace of mind and accountability, we do encourage that you change your password to a temporary one for any service you receive and change it back after. We also ask that any unnecessary wealth be taken of your RuneScape account before a service is ordered.
If I order a service how will I know when you are signing on?
Sherpas will aim to contact through text assuming regions are suitable, otherwise we will contact you at your email. As such it is highly recommended to include both and make sure they are up to date.
For any other questions feel free to contact us or ask one of our live chat attendants who will be happy to assist you