ACB – 70+ Defence
---
Buy Infernal Cape ACB – Old School RuneScape
The Infernal Cape is the best in slot cape in the game Old School RuneScape. Much like the fire cape in order to obtain this prestigious item you will need to tackle 69 waves of enemies ultimately killing the level 1400 TzKal-Zuk. Doing so can be extremely difficult especially when you are doing an Infernal Cape ACB completion. This is considered the hardest PVM content in OSRS to date, first released in 2017. Don't spend all day struggling inside the Inferno, Buy your Infernal Cape and start using it today!
Our Sherpas are here to lend a helping hand! Not everyone has the free time to spend countless hours or even weeks to obtain this prestigious cape. Let our Sherpas do the heavy lifting for you so you can start playing RuneScape with your Infernal Cape today!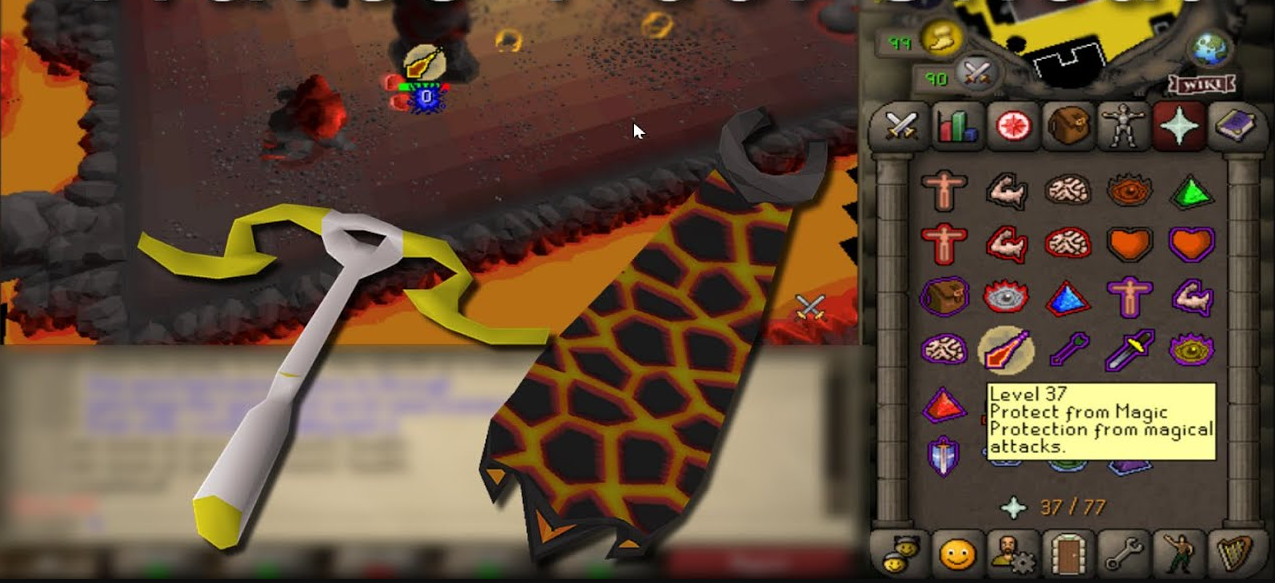 ---
Buy Infernal Cape ACB Requirements and Order Options
Requirements: (70+ Def / ACB)
You must have a Defence level of 70+
You must have a Range Level of 85+
You must have a Armadyl Crossbow
You must have the necessary potions, arrows, bolts and other supplies to complete the run.
You must have the Ancient Spell Book unlocked
You must have sacrificed 1x Fire Cape in order to access the Inferno Minigame
You must have Rigour unlocked or the additional option selected
You must have a reliable internet connection (This service is done by remote login only requiring a good connection)
Order Options:
This Infernal Cape Service is done by 100% Remote login only. In order to acquire your cape safely we will complete the service on your own computer/IP using a program like TeamViewer. Doing so will ensure that your account will remain safe and unbanned after the Infernal Cape has been obtained.
---
Frequently Asked Questions:
How does the order process work?
When placing an order, you can do "Remote/Parsec" only.
For "Remote (Parsec)" our Sherpa will login to your account and complete the order remotely using a program like Parsec or Teamviewer. This means the service is completed on your own computer/IP adding an extra layer of security against any bans.
How will I be contacted about my order?
We will reach out via text and email to confirm the scheduling of your order. You can also speak directly with your assigned Sherpa via our app at https://app.sherpasboosting.com/login an account will be made for you during your first order. If you have any questions we're available 24/7 via live chat and email support!

How long will this Infernal Cape OSRS service take to complete?
We aim to have any service ordered completed with 24 hours, however this does depend on the availability of our boosters and the customer. Since this service is done by remote login you will need to be at your PC for the duration of the service.
What is the ban rate for an Infernal Cape OSRS service?
Our Infernal Cape services are 99.9% safe from any type of ban. We'll be using a remote program like TeamViewer to ensure that your cape is obtained on your own PC/IP. Doing so will prevent Jagex from detecting any terms of service violation, it'll be just like you obtaining the cape at your home computer.
What is the Success Rate for obtaining the Infernal Cape?
99% of the time we will successfully complete your Infernal Cape service on the first attempt. Our Sherpas are professionals specializing in speed running and completing content efficiently with over 2,000 Capes completed between all of our boosters. Although rare we understand disconnections can happen, in the event of a disconnection we will re-run your service until the cape is obtained. This is a 100% guaranteed service, order with confidence!
Have you ever had a customer banned for purchasing an Infernal Cape?
We have had zero bans from any of our OSRS services this includes all of our complete Infernal Cape services. Your account's security and safety is out #1 priority here at Sherpas Boosting.
If I order a service how do I know you won't mess with my account?
This is a very common and fair question that we get asked often.
We are a legitimate website with thousands of completed orders over many years and reviews from many real, satisfied customers just like you, but don't take my word for it. Here are reviews from some of our most recent customers:
https://sherpasboosting.com/reviews/.
At the end of the day, we know that you providing your account to us to complete something for you takes a lot of trust and we take that very seriously, with a 100% guarantee that any damage to your account as a result of your work with us will be fixed entirely out of our pocket. For further peace of mind and accountability, we do encourage that you change your password to a temporary one for any service you receive and change it back after. We also ask that any unnecessary wealth be taken of your RuneScape account before a service is ordered.
For any other questions feel free to contact us or ask one of our live chat attendants who will be happy to assist you