Daily Challenges
Apex Legends
---
Daily Challenges – Apex Legends
The Challenge System lets you advance through the Apex Legends Seasonal Battle Pass. There are three types of challenges: Daily, Weekly, and Recurring Weekly.
Completing Recurring Daily, Weekly and Weekly Challenges will earn you Battle Pass Stars and Levels. If you collect enough Stars, they will become a Battle Pass tier. Each level you get from the Battle Pass you will get a new reward. Battle Pass rewards include custom loading screens, weapon skins, and music packs.
Our Sherpas are here to lend a helping hand! Don't spend all day long grinding out daily challenges, our Sherpas are here to lend a helping hand. We will login to your account and complete the daily challenges for you!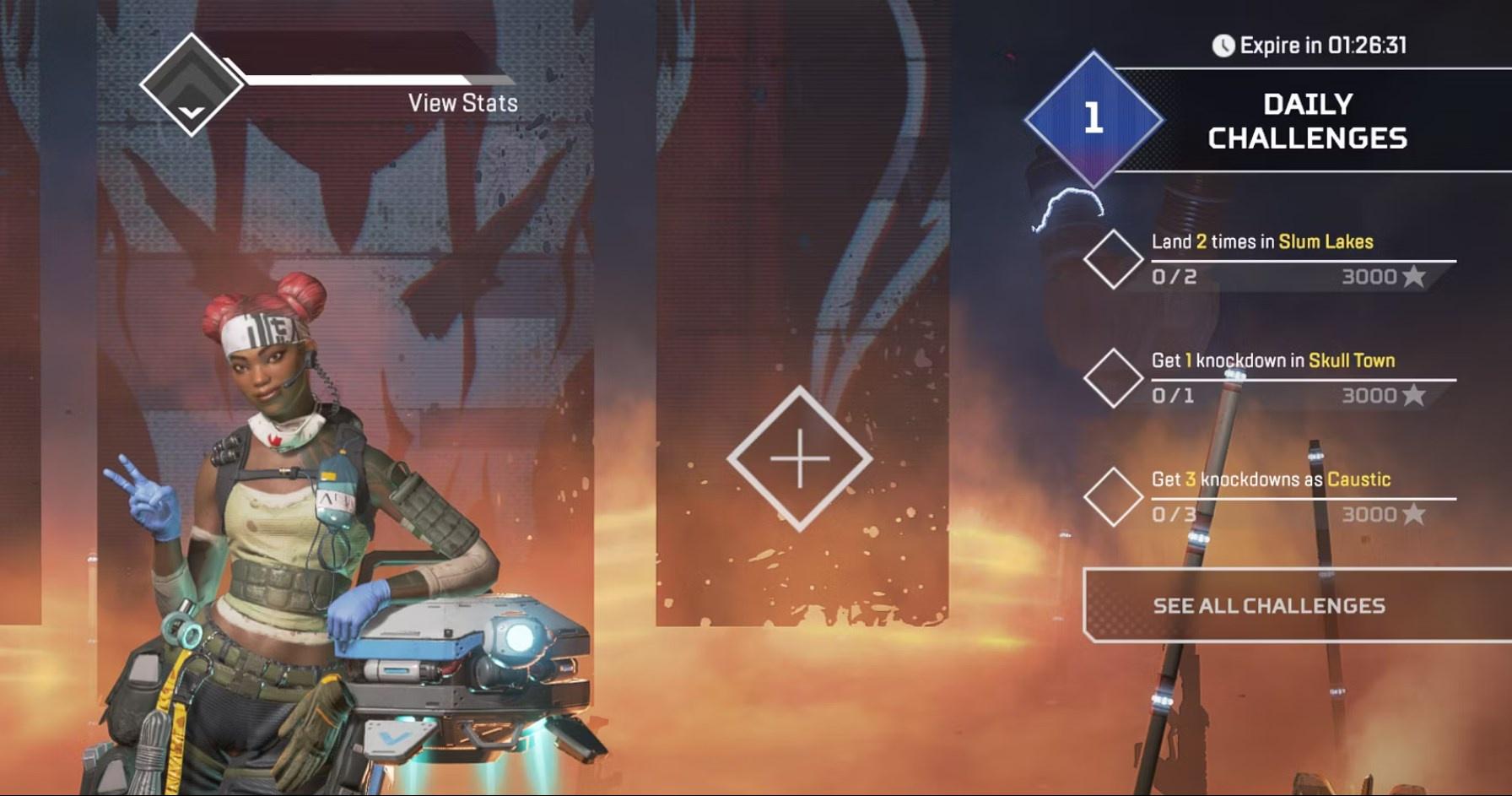 ---
Daily Challenges Requirements and Order Options
Requirements:
You must have the Legend selected unlocked.
Order Options:
This Apex Legends Win boosting service is by account recovery only, be sure to fully fill out the order form to help our sherpas serve you better. The wins will be obtained in the unranked playlist in order to farm wins more efficiently.
---
Frequently Asked Questions:
How does the order process work?
When placing an order, you can do "Play For" or "Play With" options.
For "Play For" they will login to your account and play for you to complete the service. On "Play For" orders you will input your email/phone, console and desired Apex Legend on the order page. Only the Sherpa assigned to your order will have access to your information. Once your order is completed your information is deleted from our systems.
For "Play With" orders you will play live with our Sherpas. When purchasing "Play With" you will leave your email/phone and Gamertag with the Platform you play on. Once assigned to your order our Sherpa will reach out via text/email to confirm the scheduling.
You can also speak directly with your assigned Sherpa via our app at https://app.sherpasboosting.com/login simply click the reset password link to reset your temporary password.

How long will this Daily Challenges Boosting Apex Legends service take to complete?
We aim to have a Sherpa assigned and in contact within 1-2 hours with the service being completed the same day as purchased. However, some services may take longer depending on the challenge.
How do I know you won't mess with my account if I order an account recovery?
This is a common and fair question that we get asked often.
We are a legitimate website with thousands of completed orders and reviews from many real, satisfied customers like you. But don't take our word for it—check out some of our most recent reviews!
At the end of the day, we know that providing your account info takes a lot of trust, and we take that very seriously. We offer a 100% guarantee that if any damage is caused to your account when working with us, we will fix it entirely out of our pocket. For further peace of mind and accountability, we encourage you to change your password to a temporary one for any service you receive and change it back after.
If I order an account recovery how will I know when you are signing on?
Sherpas will aim to contact you through text, assuming regions are suitable. Otherwise, we will contact you by email. As such, it is highly recommended to include both and ensure they are up to date.
For any other questions feel free to contact us or ask one of our live chat attendants who will be happy to assist you